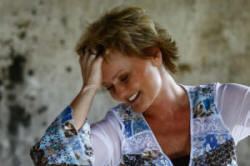 Bitten Reinholdt was a very young girl of just 17 years back in 1965 in Grindsted, when, in an advanced stage of pregnancy, she twisted with her friends to the hits of the time like Brenda Lee, The Beatles, Elvis Presley and many more. Her great party trick was to twist from side to side – she only had to do it once because her big stomach continued on its own. And so did the little girl who came out.

Bitten had a baby girl, Joanne, who loved music and dance, because that was what she had been used to for the 9 months in her mother's stomach. And long before she could even speak properly or walk, she was singing Top 40 hits while sitting on the pottie, for instance the old danish hit "Kys Mig Hvis Du Elsker Mig". Throughout Joane's teenage years, Bitten and Joanne continued to listen to the Top 40 hits and Brenda Lee, although a little Abba, Walkers and Mabel was gradually added. In the fourth grade, Joane and her friends formed their own Abba group, which performed at school parties. Joane was, however, not quite satisfied having to act as Benny since Agnetha was her favourite. Later, the audience was replaced by
a mirror and Joane and her friends would stand in front of it with their hairbrushes joining in at the top of their voices to Olivia Newton-John's Xanadu, Donna Summer, Barbara Streisand and Stars On 45.
Having finished school without performing too much, Joane went to England where she stayed for almost 10 years. She was trained as a waiter and casino receptionist. And one day at a discothèque when she was joining in on her favourite numbers as usual, a man introduced himself as music producer. He asked her if
she would like to sing on a professional level, and Joane immediately fancied the idea. The result was a
few pop songs and one appearance at a huge discotèque, but the producer was too busy with other things so the project gradually ebbed away.
Later, Joane worked at a café in London called Raouls. It was situated in the part of London, where Joane lived herself, Maida Vale. This was also a part of town where a lot of famous people lived. At Raouls Joane served breakfast to most of the guests, as it was, and still is quite normal to have breakfast at a café for people working at night. Joane thought that some of them were nice whereas others were snobs.
One day a little fellow entered the café and ordered lunch. He was in a talking mood, but Joanne wanted
to size him up and find out as to what category he belonged – the nice ones or the snobbish. After a
couple of days where the little fellow visited the café every day, Joanne decided that he seemed to be one
of the nice ones. His name was Leo Sayer, and he came there every day because he was making his own
studio near by. He invited Joane to come and see the studio, and this was the beginning of a close friend-
ship, which still lasts. He offered comfort when she had love troubles and took an active share in parties.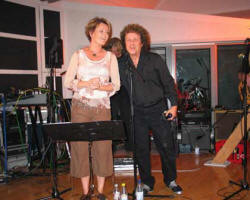 Joane did not start singing again until she returned to Denmark in 1993 where she joined a Commitments Band of 9 people. They played at various festivals, but it took too much time as Joane worked as waiter
at Hotel Marselis in Aarhus at that time – and the bills still had to be paid. At Hotel Marselis there was a
house pianist called Niels Dal who introduced Patsy Cline's music to Joanne. Until then, Joane had never really been interested in country music, but this was about to change, because after having listened to Patsy Cline, Joanne was hooked. She became so enthusiastic over Patsy Cline's music that she recorded a demo CD with Patsy Cline's songs at the home studio of a good friend at Djursland. Helge Engelbrecht got hold of this demo CD and passed it on to the producer Knud Erik Smidt. He called Joanne, and together they made a plan, which resulted in the album Twice As Much Woman.
The first year they spent writing a number of songs and they chose the best ones for the album. The
singer Peter Vesth heard Joanne's voice and gave her the song Rose Of Bargemont. Peter Vesth was also
the contact to the Country-Q Studio in Nashville where Joane, Knud Erik Smidt and Helge Engelbrecht went
in January 2000 to record the album. In Nashville Joanne developed her taste for country music even
more. She was in the middle of Patsy Cline's city and visited all the places where Patsy Cline had perfor-med and lived. She even ended up singing one of Patsy Cline's great hits, Crazy, at Tootsies – the most famous bar on Broadway in Nashville where Patsy Cline used to meet with her music friends in the breaks from her performance at the Ryman Auditorium right behind it. The Ryman Auditorium was the host to the very famous live radio show, The Grand Old Opry.

When the delegation returned to Denmark again, they spend all summer mixing and "adding backvocals" to the album. Joane Reinholdt is now ready with a very special country album.